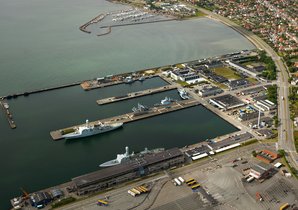 Flådestation Frederikshavn
Flådestationen, Frederikshavn, Danmark
The naval defense is very visible in Frederikshavn. The naval station's buildings and port facilities tell of Frederikshavn's strategic importance for the control of navigation between the Skagerrak, the Kattegat and on to the inland Danish waters.

The naval station is a prominent area between the ferry port and the marina, and the Navy's many employees form a distinct part of city life. It is financed by NATO's infrastructure program at the same time as the naval station in Korsør.

From 1962, the Danish Navy moved part of its ships from Holmen in Copenhagen to the newly built Naval Station Frederikshavn. From here, Danish naval ships could be deployed together with ships from the other NATO countries to prevent the Warsaw Pact fleet from passing the Kattegat and Skagerrak.

Already during the Occupation, the Germans used Frederikshavn as a support point for the important connections to Norway, and among other things Bangsbofort and the depots in Fylleledet and Bunken were later used by the Navy.

In addition to the naval station, several support functions moved to Frederikshavn over time; depots, schools and workshops, which still help to characterize Frederikshavn as a naval city.
Valuation of authenticity and integrity: